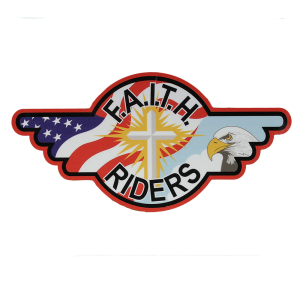 Sunday School Class-Sunday mornings upstairs in the gym
Upcoming:
Upcoming opportunities:
Alabama Faith Riders Rally – Jan 26-28 at Lakepoint Resort in Eufaula, AL
Chili Fundraiser at CBC for Daytona Mission Trip -Feb. 4 , 6pm
Daytona Mission Trip-March 12-16
Thunder Beach-May 3-5, Panama City Beach, FL
Polk City Florida Rally-May 17-20
Pigfest Mission Trip in Richland, GA- Nov. 9-19
Barbers Motorsports Mission Trip in Birmingham, AL Oct. 4-6
The Ministry of F.A.I.T.H. Riders
The command of God implores us as we "go into all the world we are to preach the Gospel to all creation" (Mark 16:15); the F.A.I.T.H. Riders take this calling seriously as the lifeblood of its existence and passion. This is a ministry, not a riding club or gang, and our sole purpose is to share the life-changing Good News by equipping the saints to engage in practical ministry opportunities.
Through the ministry of F.A.I.T.H. Riders, bikers and others are learning about Jesus Christ and receiving His awesome gift of salvation and eternal life in Heaven with Him. F.A.I.T.H. Riders is reaching people with their bikes who may not normally step foot into an organized church or Bible study. It's putting rubber, as well as shoe leather, onto the Gospel message.
What does F.A.I.T.H. stand for?
F is for Forgiveness. We cannot have eternal life and heaven without God's forgiveness.
A is for Available. Forgiveness is available for all, but it is not automatic.
I is for Impossible. It is impossible for God to allow sin into heaven. It is also impossible to please God through our own actions.
T is for Turn. Turn means to repent from sin and self to Christ only.
H is for Heaven. Heaven is eternal life, here and now and in the hereafter – but only through Christ.  Forsaking all, I trust Him!
Pt. 1 of 2
Pt. 2 of 2